A word from Anne-Mary Jolly
Presidential advisor of the Commission des titres d'ingénieur (CTI)
Published on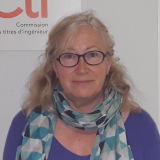 What are the main differences in terms of evaluation between CTI and Hcéres
Unlike Hcéres, the Commission for Engineering Qualifications is only concerned with study programmes in the field of engineering. It does not, for example, deal with legal or medical  study programmes. The CTI makes judgements on the study programmes offered by public engineering schools. On the basis of this judgement, the Ministry delivers an accreditation. Private schools are accredited directly by the CTI.
How are the campaigns coordinated between the CTI and Hcéres?
The possibility of collaboration had been under discussion for a long time, but it was the arrival of Michel Cosnard that enabled progress to be made. With contractualisation being on a five-year basis, the CTI and Hcéres have to carry out their procedures in the same year. To simplify the task for the schools, we have decided to introduce common tools. There are two: a single set of documents and coordinated audits. Schools thus completed a single self-evaluation file in September 2017 that they submitted in December of the same year. The coordinated audits mean that the experts visited institutions together and were able to carry out a certain number of interviews together.
How does the collaboration between CTI and Hcéres work at international level?
We are both members of several networks: the European Association for Quality Assurance in Higher Education (ENQA) and FrAQ-Sup. We are also both listed in the European Quality Assurance Register for Higher Education (EQAR). We thus present a united front to the rest of the world. We have also signed a protocol committing ourselves to evaluating Franco-Chinese institutions together. This kind of initiative contributes to showing the strength of French study programmes and, as a consequence, leadership on the international scene. Our joint mission is also to show that higher education works well in France.