A word from Dominique Guellec
Director of the Science and Technology Policy Department at the Organisation for Economic Cooperation and Development (OECD)
Published on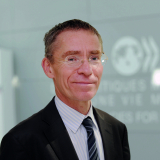 What added value does the OST provide?
The competencies of the OST are very wide, the first among them being the ability to produce relevant indicators. Its status guarantees its independence and objectivity. Since it was established, the OST has managed to create high-quality links with other academic stakeholders that have developed, over time, the high level of trust that it enjoys. These three items have made the OST a reference at the international level. It is thus a stakeholder in various European programmes.
What are the links between the OECD and the OST?
The OST's primary mission is to collect and compile data provided by states in order to produce comparisons. The OST's bibliometric data enables it to provide us with bespoke indicators in specific or sophisticated fields. In addition, we have common interests. For example, the OST is participating in the OECD's reflection about the production of semantic indicators.
What can digitisation contribute to your collaboration?
We have access to new data, be it via Internet or databases, which provides extraordinary opportunities.  However, processing this data still represents a real challenge for scientists because current tools are not up to the job. Without rejecting what exists, the OECD should consider improvements to enrich current indicators or create new ones. By virtue of its missions within Hcéres in support of evaluation, the OST has a role to play. It has access to qualified data that could be used to calibrate statistical models and it already has, or is in the process of acquiring, the required skills.