A word from Gilles Subra and Alexandre Vernhet
Gilles Subra, Professor at the Pharmacy Department of the Université de Montpellier and CHARM-EU project leader; Alexandre Vernhet, Associate Vice-President for Internal Control and Management, Université de Montpellier
Published on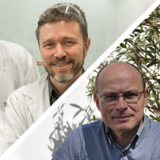 What were the major motivations for your institution in responding to this first call for projects for European Universities?
No university is an island, and we have a duty to be open to the world. The history of the Université de Montpellier certainly bears that out. That tradition of openness is more important now than ever, with the need to build an active European community and way of thinking.
Our alliance is called CHARM-EU (Challenge-based, Accessible, Research-led, Mobile European University), and was selected for the first "European Universities" call for projects. That puts us in an interesting position as pioneers, contributing to the construction of a new European higher education and research area which will confirm the central role occupied by universities at the heart of an innovation ecosystem involving teaching, research, businesses and civil society.
The call for projects was intended to be wide-ranging, pushing us to be more creative with our educational initiatives but also in terms of our organisation, imagining an innovative framework for the European Universities programme. 
We are fully convinced of the transformative potential of the European Universities programme at the national level, partly on account of the wide-ranging nature of the call for projects, but also because of the great freedom given to academic communities to propose and experiment with new educational, structural and regulatory innovations capable of reshaping the university environment.
This call for projects has also provided an opportunity for institutions to clarify their long-term strategy and form close, lasting relationships with fellow European institutions whose reputation for academic excellence is well-established. This sense of reciprocity should foster the emergence of multilateral collaborations in a variety of fields (teaching, research, mobility, partnerships etc.). The new SWAFS call for projects (Science with and for Society), an extension of the European Universities initiative, is a good illustration of this process in action.
 
What are your goals and achievements, and what obstacles have you encountered so far?
Our ambition is to produce and test a model for a viable, reproducible European university which satisfies the objectives defined by the European Commission. Our goal is to build upon existing bilateral collaborations (over 2000 publications and active exchanges involving students as well as lecturers and researchers) to achieve a new level of multilateral cooperation.
To do this, we are working on an experimental phase which will include an innovative cross-disciplinary M    aster's degree, drawing upon the latest research and seeking new responses to the challenges of sustainable development.
The CHARM-EU master's programme will offer students a great degree of control over their learning experience, giving them the opportunity to work in cross-disciplinary, international teams to develop responses to real societal and environmental challenges. On this master's programme, inter-institutional exchanges are the norm, fostering transverse inclusivity and helping to develop a sense of European citizenship.
The programme will be launched in September 2021 and students will earn a joint degree, for which we are currently finalising the inter-institutional agreement. 
Setting up this new master's degree has required us to form international and multi-disciplinary teams of researchers and lecturer-researchers, working together to develop an innovative educational programme. 
The Alliance has already set up the necessary structures to oversee the governance of the project, as well as drawing up various financial and legal projections for the institutional structure of the future European University.
The major obstacles encountered, and also the great priority of a transformation on this scale, have been connected with national regulations. The Bologna Process is not understood and applied in the same way by all Member States. The idea of what constitutes a master's degree, for example, can vary from one country to the next. These national differences serve to highlight the importance of forming close bonds in order to promote our shared European vision.
 
In terms of quality assurance, what is at stake for you and what do you expect from Hcéres?
Our hope was for Hcéres to help us implement a "European Approach" to accreditation, developing a single accreditation process for joint master's programmes. That means that all degrees will be automatically accredited in the five countries from which the Alliance draws its membership, as long as one of the national accreditation agencies has given its approval.
This would save us an immense amount of time, particularly during the pilot phase, and would also be useful when developing new joint training courses in the future. We consider Hcéres to be a key partner, facilitating this process of co-construction. 
We are happy to report that Hcéres has been playing that role with brio for CHARM-EU, with a pro-active attitude towards the implementation of the procedure. This sense of dynamism has served as an example for the other European agencies involved.
 
---

Interview featured in the special feature "What quality assurance challenges face European Universities?"