A word from Julio Cesar Calvo-Alvarado
Rector, Costa Rica Institute of Technology
Published on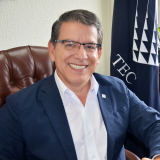 TEC has been evaluated and accreditated by Hceres: what is your feedback about your experience? What return on investment have you drawn from it?
Feedback : highly enriching experience for the institution, evaluation report has allowed us to identify critical factors for our development, clarify new actions and ratify those that we have been developing to improve the quality of our work and the fulfillment of our institutional mission. 
Expected return: systematization and integration of the processes of continuous improvement and increase of the institution's visibility to facilitate academic internationalization actions (mobilization of academics and students, shared degrees, joint research projects). 
Why did you apply to accreditation specifically by hceres?
Approach of the Central American countries with the Republic of France (Promoted by the IFAC) 
High prestige of French higher education worldwide 
Availability of Hcéres to internationalize its contributions to higher education 
How do you see the role of Hcéres on international ground?
The experience of France for its individual history and active participation in the actions of the Bologna Agreement can offer very significant contributions in improving quality of higher education in Central America. For the particular case of TEC, the excellence of French engineering training is widely recognized