A word from Raphaëlle Gauthier
Project Manager (2015-2018) in the Department of Evaluation of Higher Education and Research Institutions (Hcéres)
Published on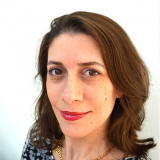 The values of professionalism and ethical and methodological rigour learned at Hcéres were a key part of my experience. As a project manager from 2015 to 2018, my role was that of an enlightened and enlightening observer: facilitating the implementation of the process, liaising between all those involved and enhancing Hcéres' values.
There are two points I would particularly like to make about my experience:
commitment to serving groups and the community: that of the personnel and elected members in the institutions, that of Hcéres' scientific delegates and that of the experts whom we ask to carry out tasks that are difficult and bear a great deal of responsibility; 
the human experience, and particularly what it represents for the experts.
I will shortly be starting a new job as a university cooperation project officer. I hope that in this context, I will be able to call upon the experts with whom I have worked and be able to accompany collaboration between Hcéres and the local authorities and institutions.