A word from Stéphanie Chatelain-Ponroy
Scientific Advisor to the Department of Research Evaluation (Hcéres)
Published on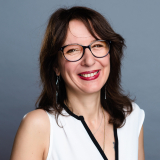 Being a scientific advisor means above all organising the evaluation of the research bodies in a given field: preparing the evaluation of new research units each year, forming a panel of experts for each one, accompanying these panels during their on-site visits, overseeing evaluation reports. The job requires very good knowledge of the relevant scientific community, rigour in dealing with each case but also the ability to organise and run committees.
Moreover, the management of my field has led me to coordinate evaluations carried out by other scientific advisors and to organise institutional meetings (updating of reference documents for research activity and output and lists of publications; contact with the French National Council of Universities and the CoNRS, etc.) relevant to my field. I also contribute to Hcéres' methodological thinking, with a view to continuous improvement of the quality of its evaluations.
The variety of my activities, the interactions with the various people involved in my field (research unit directors, panel chairs, experts, French universities board sections, representatives of learned societies...), collaboration with scientific advisors in other fields, make the job demanding and fascinating.