A word from Xavier MICHEL
Former Director-General of the École Polytechnique Chair of a panel for the evaluation of foreign institutions
Published on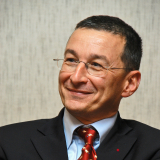 You took part in an evaluation mission in Vietnam. How did you find this experience? What benefit did it provide from a personal and professional point of view?
The mission was intrinsically fascinating: discovering and analysing the strategic approach used by higher education institutions, while placing them in their national context then making recommendations to help them prepare more effectively for the future. In Vietnam, we received a warm welcome but a lot was expected of us by the managers and professors who have a strong desire to modernise and improve their institutions. The challenge for our team was to respond with an analysis and proposals that were realistic and well-adapted to the development capacities of these universities: it was a great experience!
What advantage did the institutions gain?
For each of the universities evaluated in Vietnam, international evaluation was an important issue, on the one hand as part of their internal transformation process and on the other to confirm their position both in Vietnam and in south-east Asia.
Hcéres thus offers international institutions the opportunity to improve their performance in a world where higher education and research are increasingly global and competitive, in response to the needs of the knowledge-based economy.
How do you see Hcéres' role on the international stage?
Hcéres' mission has two complementary and indissociable aspects: on the one hand it evaluates, rigorously and objectively, the manner in which an institution meets the criteria of Hcéres' standards in accordance with the requirements of the European quality assurance agencies registered with EQAR. On the other hand, it gains an understanding of the institution's context and processes in order to produce an analysis and make "bespoke" recommendations that are likely to lead to substantial improvement.