International
Hcéres lends its expertise on institutional evaluation issues to Ukraine's NAQA agency
Published on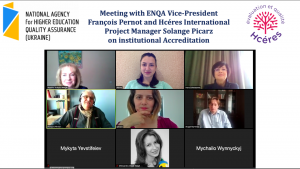 The Hcéres international team continues to dialogue and share its expertise with its international partners. Last April, for example, François Pernot, Vice-President of ENQA and Head of the Europe and International Department, and Solange Pisarz, Project Manager, discussed institutional evaluation issues during a teleconference with colleagues from NAQA (National Agency for Higher Education Quality Assurance), a new Ukrainian agency.
Initial contact had been made several years ago, notably in the framework of European projects such as C3QA on the internationalisation of the doctorate, and EDUQAS on quality assurance for master's degrees, with Hcéres contributing to training and the dissemination of European quality assurance practices.
NAQA is thoroughly reviewing its processes and is currently consulting its partners with a view to defining its quality assurance system in light of best practices. Hcéres has taken part in these discussions on strengthening quality assurance policy in Ukraine, and other actions should soon be launched.